GS1 barcoding standards help businesses track products moving through the supply-chain. By encoding key information such as the product type, location, batch/lot number, and dates, businesses get a detailed breakdown of items moving through the supply-chain.
GS1 barcodes can be used in a variety of industries to help the traceability of products and meet regulatory standards. With an increase in regulatory requirements and a growing need for information about the food we consume, GS1 barcodes help provide detailed and accurate information through supply-chains in the food industry.
Producer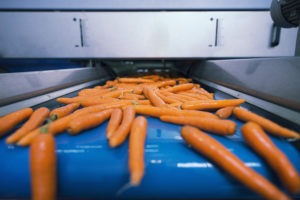 As the most widely used system in the world, GS1 barcodes build the foundation for supply-chain visibility and sustainable business practices. Through allocating Global Trade Item Numbers (GTINs), each product has a unique identification. Serial Shipping Container Codes (SSCCs) identify logistics units, such as Styrofoam boxes and other food containers. Each bit of information is embedded into a barcode which can also hold extended product data.
GS1 barcodes also support the traceability of fresh food products from their source by using location identifiers embedded into the barcodes. Vessels, loading docks, processing and packaging, and corporate headquarters, are all examples of locations that can be assigned to products using Global Location Numbers (GLNs). By being able to uniquely identify locations using GS1 standards, it enables more precise product recalls, rerouting, and market withdrawals.
The product and location identifiers are created at the source, meaning barcodes can be shared with trading partners using a few different methods. The data can be shared via the Electronic Data Interchange (EDI), Global Data Synchronisation Network (GDSN), or Electronic Product Code Information Services (EPCIS).
Primary processor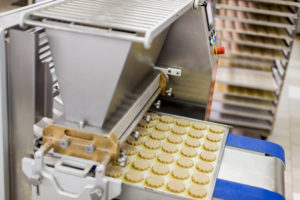 Identifying products and containers through the supply-chain allows trading partners to improve category sourcing processes, and allows final consumers to access detailed information such as nutrition and allergen data. Additional information such as product weight and use by dates can also be embedded into a GS1 unique barcode.
By helping businesses move from manual, paper-based processes for goods-in and despatching activities, GS1 systems makes it easier to share data between each partner in the supply-chain. This results in processes becoming more accurate.
In advance of shipment arrivals, Dispatch Advices (ASNs) containing relevant information such as product and shipment info, and order response and invoices, are sent to trading partners prior to shipment arrivals. As well as improving accuracy, these electronic processes are also designed to improve warehouse management operations.
Through GS1 barcoding, lot (or batch) based product identification is supported for industries where item-level serialisations isn't possible (including the seafood sector, and other fresh-food categories).
Warehouse and distribution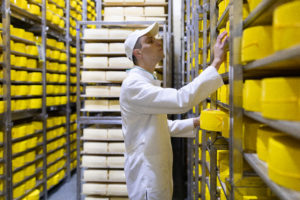 By optimising inventory management processes, and increasing order accuracy and speed, GS1 standards can help supermarkets and other food sellers to reduce inventory in-store and maximise on-shelf availability by automating the ordering process.
By being able to identify products, cases, and pallets more efficiently,  quality control, and the rotation of products are improved to reduce wastage. As warehouse operators see a 21% shorter lead time when using GS1 standards, (Consumer Goods Forum Global Scorecard, 2011), order fulfilment and shipping operations become more efficient, improving warehouse capacity.
Retailer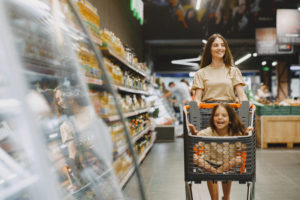 GS1 standards help to ensure products during the manufacturing process and at the distribution channel get to the correct supermarket/food store location, and match purchase orders sent from distribution centres. This makes it easier and more efficient to identify and remove recalled products from the shelves.
When locating products in the storeroom, the use of GS1 barcodes and EPC/RFID tags helps employees find items more quickly, reducing the time it takes to fill empty shelves and improving customer satisfaction.
Consumer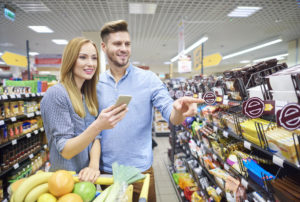 By providing customers with accurate product information, trust is built between food producers, retailers, and consumers. It also helps consumers make purchasing decisions based on whether they want to know where their food comes from, or if they're buying decision will support sustainable and environmentally friendly food production practices.
More and more consumers value the efficiency of accessing product information digitally. By being able to scan barcodes using mobile phone applications to get recipes, on-pack information, or cooking instructions, consumers will value the brands that allow them to find the relevant product information they're seeking more quickly.
GS1 systems and barcoding is particularly useful in the food industry for traceability purposes and improving customer satisfaction. By working with each stage of the supply chain and inputting relevant information as food products are moved through the chain, each stakeholder gains the information they need quickly and efficiently.
Boosted with the implementation of a reliable inventory management system, GS1 barcoding can go beyond standard processes, and help businesses enhance stock rotation and  increase warehouse capacity. Systems like Bit Inventory are GS1 compliant and can help support warehousing businesses more effectively manage inventory to streamline order processing, despatching, and stock taking tasks.
If you would like to learn more about GS1 barcoding systems, inventory management systems, or how your warehouse could be better optimised, please don't hesitate to get in touch. Feel free to call us on 03300 245452 or email info@bitsystemsltd.co.uk.