Stock control software for warehousing
Most warehouses follow a similar pattern, no matter what industry they are in. A typical warehouse procedure will involve goods in, stock put away, replenishment, pick, pack and despatch. With increasing customer demand and workload, it is essential that your business can stay competitive. Digital technology is constantly evolving and is increasingly prevalent in almost every industry. Embracing technological advances in warehousing can help your business become industry leaders, staying one step ahead of competitors. Digital technology can provide warehouses with problem-solving solutions that can help your business grow. Many warehouses are now turning to technology, particularly stock control software solutions, to help keep their business performing at its best, and turning into smart warehouses.
A smart warehouse automates areas of their operations with problem-solving technologies. Stock control software can help take warehouse operations into the future, helping them to keep up with their customer demand, increase productivity and minimise errors. When you choose our Sage stock control solution, Bit Systems can help your warehouse operations become more streamlined, simple and efficient.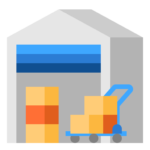 What is stock control software?
Intelligent stock control solutions can eliminate the need for manual stock control, throwing out the pen and paper method and the need for multiple spreadsheets once and for all. Stock control software is a digital system that enables businesses of any size to track inventory levels, orders, sales and deliveries. It can tell you how much stock you have, how much you need and exactly where it is. These systems are present throughout your business' whole product journey, from vendor purchase to reaching customers. They make businesses run smoother by automating and connecting different sectors. This allows your warehouse to increase efficiency, have complete control of your stock, and save time. Typically, inventory management software is often used to avoid stocking issues. At Bit Systems, we specialise in stock control for Sage, implementing barcoding systems that make your warehouse's stock control software simple. Seamless integration and control over your stock requirements are at the forefront of our systems.
What are the benefits of stock control software?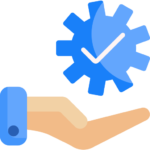 Automate tasks and increase business efficiency
Stock control solutions can automate and simplify many day-to-day warehouse tasks. Your warehouse workers will no longer need to spend long periods manually checking and updating your inventory. Not only does this save time, but it also reduces the risk of human error when it comes to your business' stock. Manual stock control and stock takes can take up large amounts of time, not only this but as time goes on, workers can become tired and lose concentration, this increases the likelihood of errors.
Automated stock control strives to eliminate the risk of errors. Fewer errors mean increased reliability and an improved reputation for your business. By automating your warehouse processes, you can take your business to the forefront of digital technology. Bit Systems' Bit Inventory for Sage can eliminate up to 90% of time spent manually carrying out stock duties by simplifying processes and providing workers with instant information and analysis at their fingertips. This dramatically increases the efficiency of your warehouses. By investing in automation, the sooner your business can grow and become a leader in your industry.
‍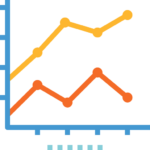 Identify trends and forecasting
Stock control software can give you a whole new depth of insight into your stock. It will record your previous buying and selling patterns, indicating when you need to upsell, buy and restock. This means you can always be one step ahead of your warehouse management. Receive notifications about your stock levels, so you won't have to worry about overstocking, or not meeting your customer demand. All the data you will need about your warehouse will be available in real-time and at your fingertips with stock control software. Stock control software means you will no longer have to spend time searching across multiple business platforms and departments for data.
Our stock control solution integrates seamlessly with your Sage Accounts to pull all of the data relevant to each department from sales, to accounts and operations to provide you with a simple analysis of your warehouse stock. From this, you can initiate business plans and investments for the future. By enabling businesses to access to real-time analysis and information regarding their stock, Bit Inventory for Sage from Bit Systems also allows businesses to quickly identify trends and make decisions based on the real-time updates and results.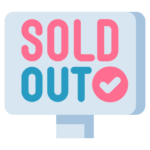 Reduce the risk of overselling
Automated stock levels allow you to have complete control and visibility of your stock, so you never have to worry about overselling. Overselling can be detrimental for any business, selling out of products means you can't supply them to your customers. This can lead to customer frustration and cause them to go to a competitor instead, affecting your business' profit as well as its reputation. With a stock control system, you can prevent this from happening altogether. Your stock levels are updated continuously, tracking any trends that occur. This means you can plan for busy and quiet months to help to prevent any financial losses. By utilising automated stock levels to ensure you always have a minimum and maximum stock levels you can now be more prepared for unexpected spikes in sales as well as protecting your business from holding high stock levels of low demand items. 
With Bit Systems, mistakes such as overselling are dramatically reduced. With access to stock patterns and updates, there is no need for your customers to be disappointed. Not only can you prevent overselling, but also carry out tasks with accuracy, meaning your customers receive the right goods in the correct quantity. The more you can prepare for these occurrences, the better service you can provide for your customers, helping your business' reputation.
‍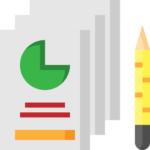 Make better business decisions
By automating your stock control, you can have access to in-depth business analysis and data. Identify high and low performing products, so you can make appropriate profit-improving business decisions. Analysing data allows you to look at seasonal trends and customer buying patterns, so your business is never caught out when it comes to stock management. Investing in a stock control system means you can make calculated decisions quickly and effectively. Any business decisions, including investments and spending, can be quantified and supported by the data that is supplied by an automated stock control software system.
Bit Inventory for Sage from Bit Systems allows you to look at your business from a wider perceptive. Our stock control software provides businesses with improvements and solutions, streamlining your whole stock management process and encouraging every department of your business to improve in the same way.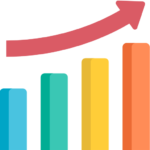 Scalability
Stock control software, such as Bit Inventory for Sage from Bit Systems, can grow and adapt with your business. It can become bigger and more complex to suit the needs of a growing business. Most businesses strive to grow and generate increased profit, so it makes sense to invest in an automated stock control system that can grow with you as your business expands. A flexible solution such as Bit Inventory for Sage, that grows with your business allows for gradual changes, rather than extreme overhauls that could be a shock to your workforce and the system.
Delaying the implementation of technology solutions into your warehouse can put you behind competitors and be reflected in depleting profits. At Bit Systems, we want to help your business processes improve through automated stock control and advance your transformation, the faster you can grow your business the faster you can increase profits. Make your warehouse a smart warehouse with automated stock control software today.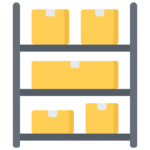 Stock control for Sage
Stock control for Sage is Bit Systems' stock control solution that can change the way your business or warehouse manages inventories for good. Using Sage 50 and Sage 200, Bit System provides barcode scanning technology that offers your business an efficient and easy to use stock control solution.
When you invest in Bit Systems' stock control software, you will be improving your efficiency and securing your business with a system that can adapt to your needs, is dependable and measurable.
Contact us today to find out how we can help your business' stock control.