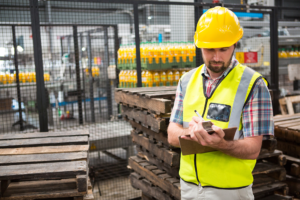 The tasks involved in the goods received process can often lead to inaccuracies elsewhere within the warehouse if not completed properly. Streamlining these tasks through the use of intelligent software can help reduce (or even eliminate) the number of inaccuracies and inefficiencies.
What is meant by goods received? 
Goods received (or goods receiving) is the process of checking the delivery of goods into the warehouse. This process involves several steps:
Matching goods to the purchase order
Checking goods aren't damaged
Logging received items into the warehouse management system
Getting the new stock unpacked and organised within the warehouse
Forwarding the consignment note to accounts payable
Following a process helps maintain an efficient warehouse whilst identifying any potential issues with suppliers. However, as a business grows, so do the challenges it faces, and these processes can become more and more time consuming, resulting in slower lead times.
How can software increase accuracy of goods received? 
Using inventory management software for goods received can significantly improve the accuracy and efficiency of this critical business process. Booking stock into the warehouse using a handheld scanner isn't only a much smoother process than manually writing down information and then also updating a financial back office, it's also incredibly accurate and less prone to human error.
More sophisticated inventory management software packages can also offer product location tracking to help with a more efficient put away process. This is done by presenting the product's location on the scanner, so that even new or temporary staff get their tasks completed in good time by having the right information in front of them.
Serial/batch information can also be tracked accurately at the goods received stage so that if there are any issues, perishable stock can be tracked back to the day it was delivered and the supplier it was delivered too, to help with supplier returns.
Creating additional processes 
Creating additional processes for tasks within the goods received process can also help towards increasing accuracy and efficiency. An example of this could be establishing measures to ensure warehouse deliveries are scheduled at different times, so they don't turn up all at once and cost valuable resources. Within this, unpacking deadlines should be based on the number of items being delivered, rather than having a blanket deadline across all deliveries coming into the warehouse, otherwise mistakes can be made from teams feeling rushed.
Goods received with damages or unreadable labels can also cause issues within the process of taking delivery of items. Creating steps to reduce downtime in solving these issues can greatly improve efficiency of the goods received process. Capturing information including proof of damage, and storing damaged goods in a designated area of the warehouse, will help make the return of goods more streamlined. In cases of unreadable labels, if it's a regular occurrence, having a chosen point of contact with the supplier to share frustrations will improve communications. There are also some warehouse management systems that can record items as received without the use of scanners.
The future of receiving goods into the warehouse 
With the rate of technological advancements increasing exponentially year on year, there is no doubt warehouses will continue to see the benefits of this for a long time ahead. Specifically in the case of the goods received process, it has been speculated that technologies including artificial intelligent (AI) and drones with optical sensors could be used in future to streamline processes even further.
If you would like more information about how warehouse and inventory management processes can be streamlined by technology, please don't hesitate to contact us on 03300 245452.