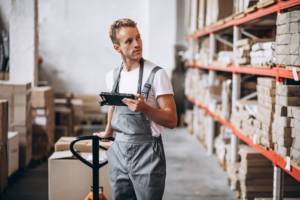 What is batch and serial traceability?
Batch and serial number traceability is a function that allows warehouse staff to track batch information (batch number/expiry dates) and serial numbers through the warehouse, helping them to understand where specific stock is located at any given time. Here at Bit Systems, we can help automate this using our Bit Inventory software and barcode scanners. The benefits of this mean that a significant amount of time is saved as team members will have all the necessary stock information on their handheld scanners, with no need to check for this information elsewhere. This can also help with customer service, because stock can be traced by warehouse staff to where that inventory came from, so if any problems were to arise, the situation can be rectified quickly.
New functionality for Bit Inventory 50 
Bit Inventory 50 has been updated to allow for more information to be held within the barcode scanners to increase efficiency when picking and dispatching stock. This additional information, including expiry dates of perishable goods, helps warehouse operatives identify which stock is the oldest in the warehouse. The operative can also identify batch and serial numbers at the moment they are processed in the scanner.
Benefits of advanced traceability functionality 
There are several benefits to having this additional information available at hand on the warehouse floor;
Better stock rotation
Picking the oldest stock first means that inventory is better rotated, and older items aren't left to gather dust or perish in the warehouse.
Less wastage of perishable goods 
Understanding the expiry dates of stock allows for the produce closest to its expiry date to be dispatched first, leading to less wastage because of consistent rotation.
Better informed warehouse operatives 
Having the information on the handheld scanners helps warehouse operatives make quick decisions on which stock to pick to go out to the customer.
Quicker processes 
With no need to rectify incorrect batch/serial numbers later, there's no more delay for dispatch paperwork. If an incorrect batch or serial number is flagged within Bit Inventory, it can be changed there and then, pro-actively on the warehouse floor, saving time and money.
Improved customer service
With very little chance of customers being sent months or years old stock that has gathered dust and is potentially faulty, they will be much happier receiving consistently good quality stock. This will lead to a higher level of customer satisfaction, and retention.
To understand more about these new features of Bit Inventory and how they can help streamline your warehouse processes, please contact us by calling 03300 245452 or email info@bitsystemsltd.co.uk.