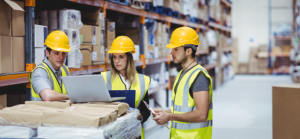 Purchasing a warehouse management system (WMS) is a big decision to make, particularly as it involves a huge investment of not just monetary value, but also of time and commitment from you and your employees. This is why finding a system that works for you, and understanding the questions to ask before buying, are incredibly important to ensure your business is getting value for money.
Understanding the features and benefits of different warehouse management systems, the implementation process, and what your business needs to get ready before implementation, are all extremely important if you want a solution that fits with your business.
1. What are the features and benefits? 
It may seem like an obvious question, and WMS businesses will usually run through the features and benefits in a demo or initial call, however they may not run through them all. If there are specific features you're looking for in your system, such as the ability to support cycle counting or first-in-first-out processes, asking about whether these features are available or whether there are any additional features that may be of benefit to your business is useful in understanding if a system will not only meet your requirements, but also add additional value to your business.
Additionally to this, asking how different features will benefit your business specifically, helps you to recognise whether you might be paying a premium for flashy features that may not even be relevant to your business.
In general, a good WMS should offer benefits including improving accuracy, efficiency, and providing a better customer experience.
2. What costs are associated?
As well as purchasing the system itself, there are usually other costs involves, so understanding what those costs are can be useful in making sure you have the budget available. The costs associated with a WMS can range from service costs for set-up and training, to hardware costs, and licence and support fees. Knowing each cost involved will also save you from any unexpected surprises later down the line.
3. Is the software configurable? 
Installing a configurable WMS will help tailor the software to your business needs. With certain settings that can be personalised to your business processes, the system is increasingly likely to help you reach your goals more effectively.
Being able to allow options such as printing barcodes, assigning pickers to specific orders, allowing negative stock, and automatically printing dispatch notes, gives businesses the adaptability to change and improve their processes in their own time.
4. Will the software be able to scale with our business?
While some WMS's may be more expensive than others, that might be because they have the adaptability to scale with your business. For example, if you need your WMS to integrate with your accountancy system, a good WMS provider will also offer upgrades to their solutions so it can continue to have the compatibility your business was looking for.
Additionally, if your business grows to the point of having multiple warehouse locations, some of the more sophisticated WMS solutions will support the option to include multiple warehouses, so you can have greater visibility and control over your processes and transactions.
5. Do we need to get anything ready before having the system installed?
Usually, before businesses have a warehouse management system installed, they need to get certain things in place before the installation goes ahead. This can range from a variety of technical requirements to administrative tasks, such as letting the WMS provider know how many users the software will have, and getting your stock codes in order. Generally speaking, WMS providers will often ask businesses to have a specific version of Windows installed, wi-fi, and server requirements.
It's important to ask this question early-on, so you know what's expected of you as a potential customer, and giving you maximum notice so there aren't any unwanted surprises.
6. What can I expect from the implementation process?
By understanding the implementation process of the system, you will have more of an idea of the resources you need to allocate for the system so it can be implemented efficiently and successfully. You should also keep in mind that the more you know about the stages of the implementation process, and what each stage entails, the more successful the installation will likely be.
General stages of an implementation process should at minimum include a kick-off call, scoping, installation, training day, and go-live, and you should be reassured that someone will be around to support you should you need further guidance or there are teething problems.
It can often be difficult to find the right help and information regarding new software systems, so if you would like any additional advice or guidance on what to expect from installing a warehouse management system, please don't hesitate to contact our experienced team of support engineers and consultants who would be more than happy to answer your questions. You can call us on 03300 245452 or email info@bitsystemsltd.co.uk.